Flower and Garden Show
www.news.ai Site Map Click to enlarge pictures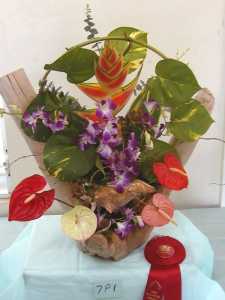 How to top the First Annual Flower and Garden Show? Have the second one.
The Anguilla Beautification Club held their 2nd Annual Flower and Garden Show on April 29-30, 2000 on the grounds of Ruthwill Auditorium in The Valley. The high point of the show is awarding the winners in the floral competitions. There are many categories including miniature flower arrangement.
Other displays featured produce from local farmers (we bought some incredible tomatoes), submissions by primary school children for a competition, displays of goat resistant plants, herbs from the CuisinArt gardens, local art work, the "Corner of My Garden" photo competition, traditional foods, and displays by local nurseries.
We picked up a list of Goat Resistant Plants, including Oleander, Periwinkle, Parsley, Coriander, Stingy Thyme, Mint, Coleus, Asparagus Fern, Purple Allamanda, and more. But the list comes with a dose of skepticism - next to it was a sign up sheet where you could check off supposedly "goat-proof" plants that you had personally seen goats eating. If they get hungry enough, they will eat almost anything that isn't deadly poison.

The program guide was a bargain at only US$4. It contains a weatlh of useful articles and pictures on gardening in Anguilla: How To Make A Garden From Scratch, Growing Orchids in Anguilla, The Ultimate Challenge, Hibiscus, The Grounds of Government House, Plant Production by Leaf Cutting, Rocks Can Be a Garden Too, Goat Resistant Plants...Well...Maybe, Air Layering, Beautifying Sandy Ground, Herb Garden Basics, Specialist Fertilizer for Anguillian Soils, Growing House Plants, Some Flowers Do All the Work For You, Pest and Pet Control, and Hydrophonic Basics.
The two day event drew a good turnout, including tourists! There was always a line at the container where the high-grade tropical topsoil was for sale. Activities included tours of hotel gardens and demonstrations of air layering and hydrophonic plant towers,
More photos of people at the show can be found on the Photo.ai web site: Click Here.

Revised: 2000/5/10

---